For many parents it's already time for back-to-school shopping for their kids. And for those with younger babies like me, it's time to start picking out the Fall wardrobe and say goodbye to sunny rompers and UPF sun tees. Here are some tips and trends from The Children's Place.
Top trends for kids for

fall

fashion
(From The Children's Place lead designer, Michael Giannelli)
This year it's a more colorful season for back to school. We're focusing on jeggings as the key piece for the girl's wardrobe. We've mixed in prints including floral, leopard and snake skin (in the girl's favorite color, pink!). Jeggings can be paired back to great graphic tees, licensed tees and amazing woven, fashion tops.
Another trend is the romantic, relaxed bohemian theme that focuses blouses and hi-low dresses layered with jean vests. We have great soft dresses and skirts in rayon, mesh and chiffon fabrications.
Back to school comes earlier than past years. The weather is still warm, and we want to ensure our clothing is wear-now appropriate. From our brand you'll see more short sleeves, shorts, skirts, which will all be in store through September. Kids will have a lot more wear-now options.
Versatility is key! Invest in the foundation pieces for a wardrobe. And dare I say buy them in multiples.
We have great cargo pants, denim in new washes and new fits for boys including skinny, active graphic tees, athletic wear for boys. For girls it's all about jeggings, graphic tees, skirts and cute tops. You want to be able to buy clothing that will be able to be worn in September, October and then you can build onto those looks as it gets colder (with a fleece or Sherpa hoodie). You can put on a cute cardigan for girls or a profleece jacket. You start with the foundation and then you build onto it overtime and layer up as it gets cooler."

For baby boys, it's mad for plaid and dark denim styles this Fall at The Children's Place. Plus, fun knit hats: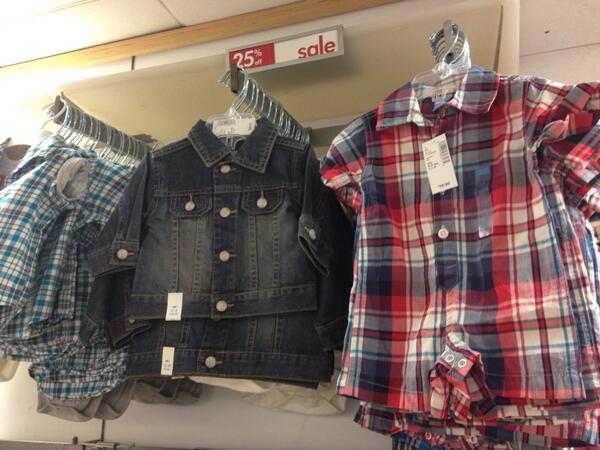 They also have a section for kids who wear
uniforms
to school, including solid polos in lots of different colors and long sleeve tops. Good to know!
And don't forget back-packs, which they have for toddlers and older kids. I particularly love the
Phineas and Ferb
Perry the Platypus one.